Two-Pronged Strategy of TESDA in Poverty Reduction
---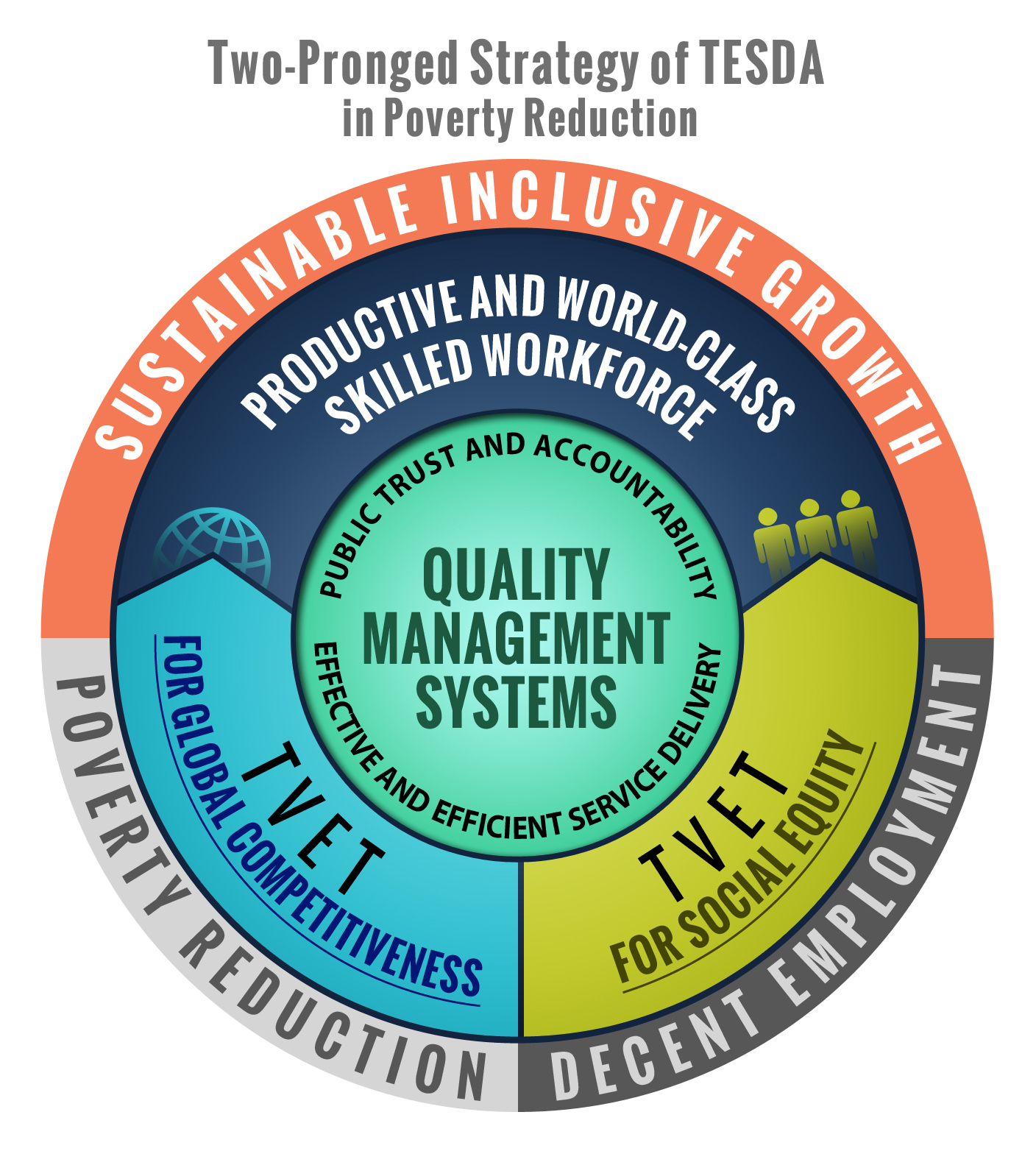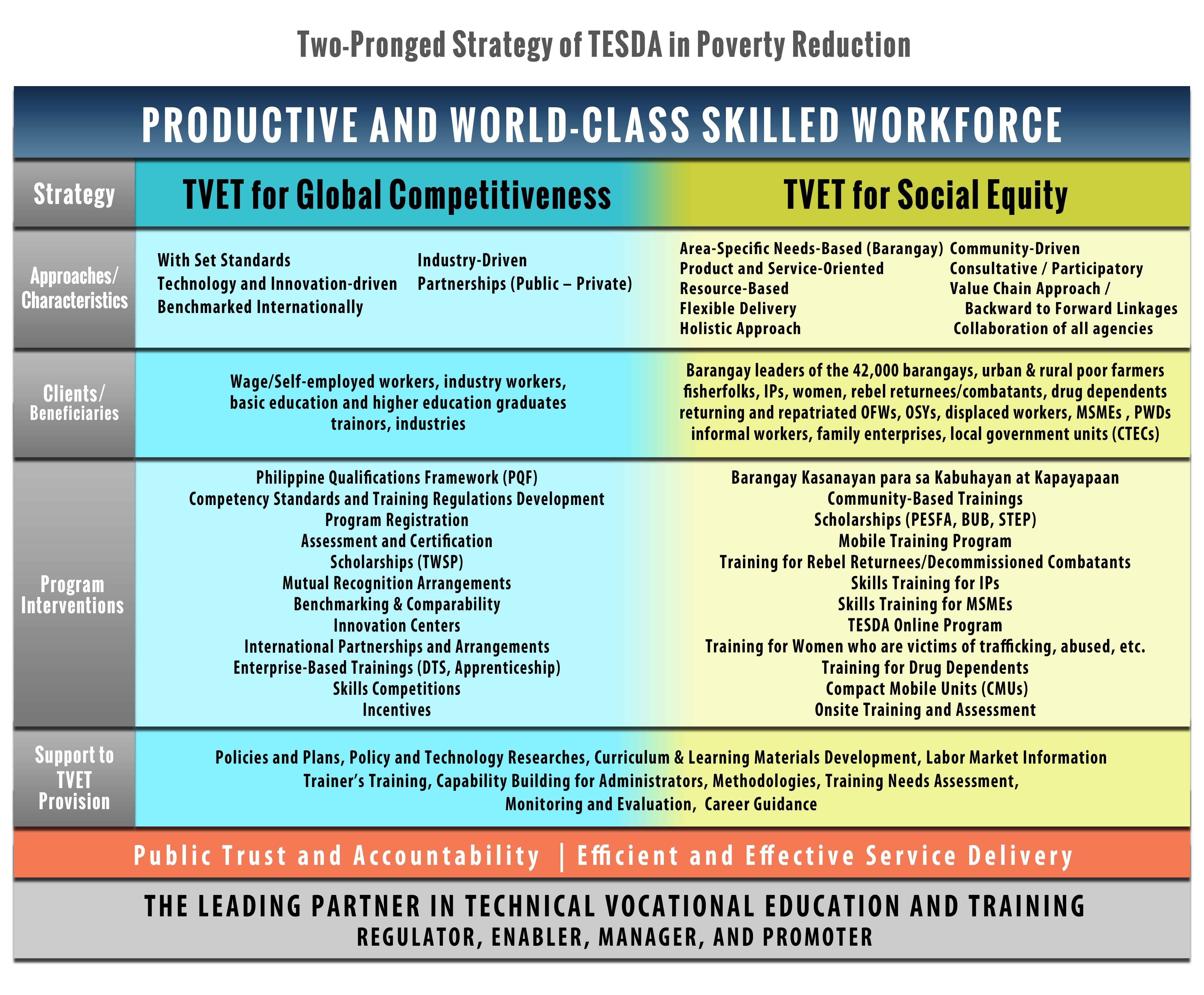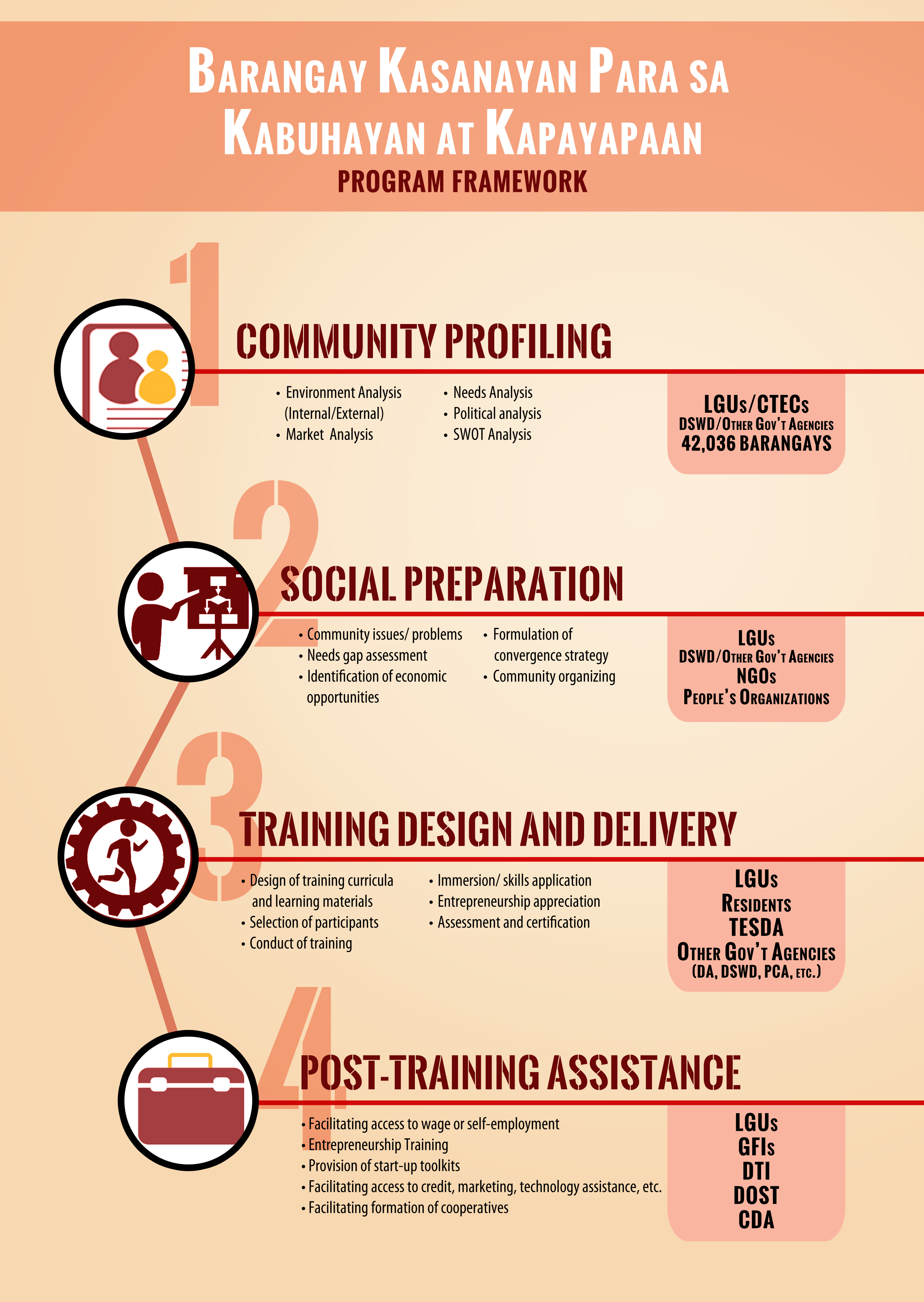 TVET for Poverty Reduction:
Supporting the Development Agenda of the President
I. Introduction
The Philippine ten-point Socio-Economic Agenda for the next six (6) years were outlined as follows:
1. Continue and maintain current macroeconomic policies, including fiscal, monetary, and trade policies
2. Institute progressive tax reform and more effective tax collection, indexing taxes to inflation
3. Increase competitiveness and the ease of doing business
4. Accelerate annual infrastructure spending to account for 5% of GDP, with Public-Private Partnerships playing a key role
5. Promote rural and value chain development toward increasing agricultural and rural enterprise productivity and rural tourism
6. Ensure security of land tenure to encourage investments, and address bottlenecks in land management and titling agencies
7. Invest in human capital development, including health and education systems, and match skills and training
8. Promote science, technology, and the creative arts to enhance innovation and creative capacity
9. Improve social protection programs, including the government's Conditional Cash Transfer program
10. Strengthen implementation of the Responsible Parenthood and Reproductive Health Law
Afterwards, the administration of President Rodrigo Roa Duterte laid out its 0 + 10-point Socioeconomic Agenda that defines the priority strategies to attain genuine exclusive growth:
0. Law and order: stamp out criminality, drugs, smuggling, kidnapping, address traffic crisis, honor sanctity of contracts, etc.
1. Continue and improve on current macroeconomic policies: strengthen tax collection and administration – reduce tax evasion, corruption and smuggling in revenue collection agencies (BIR & BoC).
2. Reform the tax system to make it more progressive, equitable, and globally competitive – including indexation to inflation of tax brackets for personal and corporate income taxes.
3. Accelerate infrastructure spending, with at least 5% of GDP spending target; address bottlenecks in the PPP program.
4. Strongly attract foreign, besides local, direct investments by: (a) easing constitutional economic restrictions and other PH laws; (b) enhance ease of doing business (cut red tape); (c) enforce law and order.
5. Pursue agricultural development, focusing on farm-level productivity , via support services to small farmers, improving market access, and fostering agricultural value chain through partnerships with agribusiness firms. This is part of broader rural and regional development strategy that includes promoting tourism.
6. Address bottlenecks in land reform and management systems, including security of land tenure to make projects bankable, thereby attracting investments in rural areas.
7. Strengthen basic education, focusing on skills in communication, math and logical thinking; provide scholarships for tertiary education, and address skills-jobs mismatches.
8. Promote S&T and CA (creative arts) to enhance innovative and creative capacities – needed for self-sustaining inclusive development and participation in global knowledge economy.
9. Expand and improve the CCT, indexing grants to inflation while tightening its administration.
10. Step up implementation of RPRH Law to enable couples, especially the poor, to have informed choice on the number and spacing of children they can properly care & provide for.
Finally, in making good on the government's commitment for "True Compassion and Real Change", a harmonized agenda entitled Malasakit at Pagbabago 20 @ 22 was crafted as follows:
1. Peace and Development
2. Macroeconomic Policies
3. Tax Reform Package
4. Competitiveness and ease of doing business
5. Infrastructure Spending
6. Energy and Power
7. Agriculture and Rural Development
8. Land Administration and Management
9. Human Capital Development and Education
10. Science, Technology and Arts
11. Decent Work, and Full and Productive Employment
12. Social Protection and Social Dialogue
13. Health and Responsible Parenthood
14. Administration of Justice and Respect for Rule of Law
15. State Security and Civil Protection
16. International Relations
17. Participatory Governance
18. Ecological Integrity
19. Housing and Urban Development
20. Culture

These priorities are all aimed at achieving sustained economic growth and addressing poverty - a perennial problem in the country.
Based on the results of the July 2015 Family Income and Expenditures Survey (FIES) by the Philippine Statistics Authority (PSA), poverty incidence in the Philippines was estimated at 26.3 percent. By major island groups, Mindanao recorded the highest at 41.3%; Visayas, 34.2%; Luzon excluding NCR , 23.5%; and NCR, 6.5%.
In addition, the government's thrust will focus on addressing the problems of corruption, criminality, illegal drugs and breakdown of law and order coupled with the need to pursue and sustain economic growth and social equity to alleviate poverty.

II. TESDA Two-Pronged Strategy in Poverty Reduction
In response to this goal of poverty reduction and the over all Reform and Development Agenda of President Rodrigo Roa Duterte, TESDA, under the leadership of Secretary Guiling A. Mamondiong, will reposition technical vocational education and training (TVET) towards a two-pronged strategy: TVET for global competitiveness and TVET for social equity. TVET is recognized to contribute in both economic growth and social equity by providing productive and employable skills needed by the industries, the communities and the individuals. These are all aimed at developing productive and world-class skilled workforce for decent and productive employment to achieve sustainable inclusive growth.
TVET for Global Competitiveness
TVET is recognized as a source of the required skills, knowledge and technology to drive productivity in industries, and consequently, make them globally competitive. Productivity is the basis for sustained economic growth and wealth accumulation.
In pursuing global competitiveness, TVET is generally characterized by following set and internationally benchmarked standards, continuous adaptation of the most recent technologies and innovations, conformity with the demands of the industries as well as actively strengthening public-private partnerships.
The need for Filipino workers to be globally competitive becomes the more imperative with the advent of trade and investment liberalization and facilitation. Under this environment, there will be greater access for both goods and services among nations. This will lead to movement across borders not only of goods but also services to include human resources.
The thrust for Global Competitiveness is characterized by a training delivery that is normally set in a formal setting, whether in schools and training centers or in enterprises. This would cater to the needs of Wage/Self-employed workers, industry workers and trainors in need of skills upgrading, basic education and higher education graduates, and the workers needed in emerging technologies and newly established companies.
Some of the programs that are generally being implemented under this strategy include the following:
- Competency Standards and Training Regulations Development
- TVET Program Registration and Accreditation
- Competency Assessment and Certification
- Scholarships (TWSP)
- Mutual Recognition Arrangements
- Benchmarking & Comparability
- Innovation Centers
- International Partnerships and Arrangements (including linkages with foreign skills training institutions)
- Enterprise-Based Trainings (DTS, Apprenticeship)
- Skills Competitions
- Capability building for Centers of Excellence
TVET for Social Equity

This is based on the universal principle of social inclusion, and places people, particularly those who are socially excluded and displaced (such as the informal workers, indigenous peoples, farmers, fisherfolks, drug dependents, rebel returnees, women victims of abuse and human trafficking, returning OFWs, persons with disabilities (PWDs), among others) into the mainstream of society, as beneficiaries and active participants in the development process. It also aims to address the disparities and uneven development across regions, provinces and sectors.
This will be promoted through the identification and supply of the specific skills requirements of different barangays. It will use community-driven approach to training delivery and continuous consultations and collaboration at the grassroots levels with other government agencies. It will be area-specific, resource-based, flexible, holistic, product and service oriented . It will serve as a driving force for change and upliftment of the lives of the Filipino people, contributing to the socio-economic development of our nation as a whole.
Since labor is considered the main asset of the poor, equipping them with skills, knowledge and technology, not only improves their employment and income generation, but also enhances their productivity and social growth. Thus, additional resources (manpower, facilities, funding) should be provided to expand their access to high quality and relevant TVET opportunities. Linkages with government vocational schools and state universities/colleges offering TVET programs shall also be pursued and strengthened, to accommodate a greater number of beneficiaries.
Specific programs being implemented at present include the following:
- Community-Based or Barangay-based Trainings
- Scholarships (PESFA, BUB, STEP)
- Mobile Training Program
- Compact Mobile Units (CMUs)
- Skills Training for various clients ( Indigenous People, micro and small enterprises, women victims of abuse/ human trafficking, drug dependents, housewives, out-of-school youth, rebel returnees, decommissioned combatants, returning/repatriated OFWs, displaced workers, informal workers, etc.)
- TESDA Online Program
- Onsite Training and Assessment
- Moral Renewal Program
Support to TVET Provision
To ensure quality and relevance and develop capacity of the TVET providers and other partners, TESDA also implements the following programs, among others:
- TESD Policy and Planning
- Trainers' trainings and development
- Capability building of TVET administrators and personnel
- Curriculum and Learning Materials development
- Policy and technology researches
- Training Needs Assessment
- Compliance Audit
- Career Guidance and Advocacy
- TVET monitoring and evaluation
Quality Management System and Good Governance
In the implementation of its programs and services, TESDA adheres to the highest form of good governance,accountability, and transparency. TESDA has institutionalized Quality Management System in all its operations. It will sustain its ISO 9001:2008 certification and pursue higher level of awards in the Philippine Quality Award.
Service delivery will be made faster, more efficient and effective, through ICT enabled systems. Among others, it shall install an on-line scholarship application system, for persons who want to avail of free skills trainings.
Furthermore, collaboration and partnerships shall be pursued in the provision of tech-voc services.
TESDA as the Authority in TVET in the country, implements its mandate as an enabler, manager and promoter for the entire TVET sector.
III. TESDA Reform and Development Agenda for the Next Six Years and Beyond
The two-pronged strategy will underpin TESDA's flagship program, the "BARANGAY KASANAYAN PARA SA KABUHAYAN AT KAPAYAPAAN". This program shall give focus on skills training programs for the self-employed, overseas employment, cooperators (members of cooperatives), entrepreneurs, family enterprises, drug dependents and rebel returnees. Appropriate skills training programs and modules shall be designed to meet the specific requirements of the target beneficiaries.
In the next six (6) years, Sec. Mamondiong has outlined the TESDA Reform and Development Agenda that give emphasis and priority on the following programs and initiatives:
I. Barangay Based Scholarship Program
This involves the empowerment of the Barangay Chairpersons in the identification and nomination of beneficiaries from among their constituents, regardless of political and religious affiliations to avail of available skills training programs.
This is aimed at expanding and providing equal opportunities for the greater number of people in the smallest government unit, the barangay.
II. On-line Scholarship Application
To expand and facilitate access to TESDA training and scholarship programs, TESDA shall install an on-line application system through its website www.tesda.gov.ph. Any person who wants to apply for free skills training can make his/her application on-line. The qualification requirements for the programs shall also be posted.
III. Walk-in Scholarship Application
Interested individuals who want to avail of TESDA scholarship programs may inquire and file their scholarship application with the TESDA Provincial/ District Offices in their area. The Provincial/ District Offices shall inform the prospective scholarship applicant on the qualification requirements to avail of the program.
IV. Technical Audit of TVET Schools and Programs
Continuing compliance of TVET providers to the standards set by industry shall be strictly enforced. In addition to the regular compliance audit being conducted by the TESDA regional and provincial offices, technical audit shall also be done in all TESDA Technology Institutions, including the other public and private TVET providers with programs registered with TESDA. Particular attention shall be given on the availability and adequacy of relevant training facilities, tools and equipment. This is to ensure the fitness and capabilities of the training institutions in providing quality and relevant skills training programs.
V. Skills Training for Drug Dependents
Provide special skills training program for drug addicts and prisoners as part of the government's rehabilitation program. This shall be designed and implemented in coordination with the appropriate government agencies.
This program will look into the socio-economic well-being of the victims of drug trafficking and other related problems.
VI. Skills Training for Entrepreneurs and Family Enterprises
Skills training and entrepreneurship shall also be directed towards the development of individual and family enterprises. This is to help develop the family, not only as a social institution but also as an economic institution.
This will support the development of micro and small enterprises which are the backbone of our economic development.
VII. Skills Training Program for Inmates and their Families
Provide special onsite skills training program for inmates, as part of the government's rehabilitation program and to help them reintegrate back to society after their release. Their families will also be given skills training to provide for additional means of income and livelihood while inmates are still serving their time. This shall be designed and implemented in coordination with the appropriate government agencies.
VIII. OFWs Reintegration
Interested returning OFWs will be provided with skills training, retooling or skills upgrading being a vital component towards mainstreaming them in Philippine society. This would be of paramount importance to their quest for new employment or in putting up his/her enterprise especially for those who will be staying in the country for good.
IX. Special Skills Training Program for Indigenous People
In order to preserve the traditional crafts of the indigenous people, special skills training programs will be conducted.
X. Expanded Training Program for Women, PWDs, IPs
Special skills training program for Filipino women, regardless of social status, but particularly the housewives and victims of human trafficking, shall be implemented to ensure their economic well-being.
XI. Continuing Program for TESDA's Alumni
As part of lifelong learning and continuing skills enhancement of the workforce, skills training programs shall also be made available to TESDA's alumni or the previous recipients of TESDA training and scholarship programs. This is aimed to further improve the technical competence and excellence of the Filipino trained workers and keep them abreast of modern technologies.
XII. Global Access to On-line Database of TVET Graduates and Certified Workers
The TESDA website shall be enhanced and expanded to provide information on the list of TVET graduates and certified workers in various qualifications and industry sectors which can be accessed worldwide. This is to provide local and foreign employers with access to the list and profile of TVET graduates and certified workers that can employed in their companies.
XIII. Strengthen Linkages with the Agro-Industrial Sector
Building and strengthening ties with the different industries especially with agricultural enterprises will be pursued to deepen and expand participation of agro-industry in TVET.

This is aimed at promoting inclusive growth especially in the predominantly agricultural communities in the country. Skills training will be facilitated to increase agricultural productivity and increased the employability of graduates.
XIV. Strengthen Linkages with Foreign Skills Training/Funding Institutions/
Linkages with foreign skills training institutions and corporate entities shall be established within the context of mutual cooperation and collaboration on human resources development. Partnership and networking with TVET institutions of other countries will enable our Filipino workforce to be updated on modern technologies and be technically competent to cater to the demand of local and global labor markets.
XV. Linkages with State Universities and Colleges (SUCs) and Local Universities and Colleges (LUCs)
To expand training opportunities, especially for the marginalized sectors, linkages with government technical vocational schools and state universities and colleges offering TVET programs shall be pursued and strengthened. These institutions shall also be encouraged to offer more training programs in order to accommodate a greater number of beneficiaries.
XVI. Transparency
In the spirit of transparency, all the names of TESDA scholars shall be published in the TESDA website, and will be made available to all local newspapers and local government units where the training is conducted.
XVII. Moral Renewal
Moral values, ethical standards, particularly the negative effects of drug addiction, criminalities, corruption, poverty divisiveness and disloyalty to the country shall be integrated in the TVET curriculum.
This shall help in making the TVET graduates and TESDA program beneficiaries morally upright, spiritually responsible and law-abiding citizens.