Secretary Irene M. Isaac
---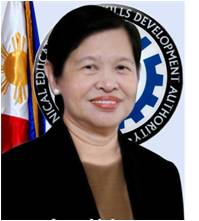 Professional Information
Work Experience
Current Appointments

Director General (with the rank of Secretary), Technical Education and Skills Development Authority (TESDA), November 4, 2015 to present
Officer-in-Charge (Director General) Technical Education and Skills Development Authority(TESDA), October 12, 2015 to November 3, 2015
Deputy Director General, TESDA, March 27, 2012 to present
TESDA Quality Manager
Head of Secretariat, Philippine Qualifications Framework
Chair, Philippine Task Force, ASEAN Qualifications Referencing Framework

Past Appointments

Regional Director, TESDA in Northern Mindanao, April 1, 2011 to December 21, 2011
Executive Director, Qualifications and Standards Office (QSO), TESDA. TESDA Focal Director for the Language Skills Institute.
Member, TESDA Quality Team.
Commissioner, UNESCO National Commission of the Philippines
Member, Technical Panel for Engineering Technology and Architecture, Commission on Higher Education
Member, Technical Panel for Teacher Education, Commission on Higher Education
Executive Director, Skills Standards and Certification Office (SSCO), TESDA.
Executive Director, Office of Formal TVET (OFTVET), TESDA.
Regional Director, TESDA in the National Capital Region.
Regional Director, National Manpower and Youth Council (NMYC) in Region V (Bicol Region).
Chairman, Management Committee,
Member, Governing Board, Southeast Asian Ministers of Education Organization (SEAMEO) Voctech Center, Brunei Darussalam
National Project Coordinator, Technical Education and Skills Development Project (ADB Loan No. 1750-PHI, 3rd quarter 2003-1st quarter 2005)
Project Coordinator, Philippines-Australia Quality TVET Project (PAQTVET) I.
Course Director, Various overseas programs (TVTC, ASEAN for CMLV, others )
Assessment Team Leader, Philippine Quality Awards
Assessment Team Member, Philippine Quality Awards

Education and Training

Graduate, Bachelor of Literature in Journalism, University of Santo Tomas, Manila

Academic units completed, Master in Business Economics, University of Asia and the Pacific, Manila

Lifelong Learning in technical vocational education and training, in competency standards, certification and benchmarking through work and under mentors, short-term courses and seminars, speakerships and participation in various programs and studies locally and overseas.