August 11, 2023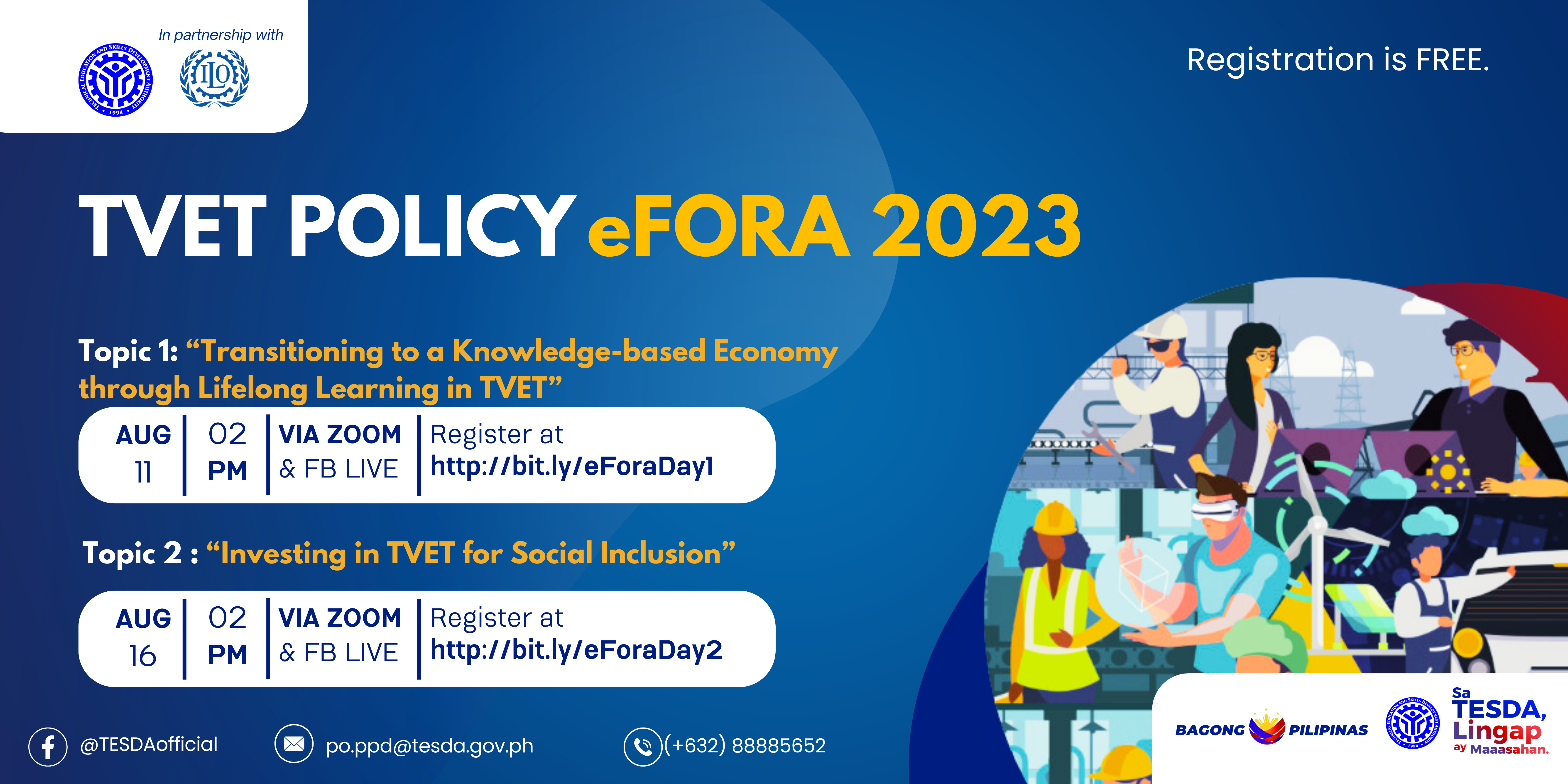 We are delighted to extend our invitation to the forthcoming TVET Policy eFora 2023, hosted in partnership between the Technical Education and Skills Development Authority (TESDA) and the prestigious International Labour Organization (ILO).
Mark your calendars for the two-part series scheduled on 11th and 16th August 2023, from 02:00 PM to 04:00 PM (GMT+0). We are pleased to inform you that the eFora will be conducted on the Zoom platform and will also be live-streamed via Facebook, ensuring accessibility to all interested participants.
The eFora will focus on two pivotal themes, "Transitioning to a Knowledge-based Economy through Lifelong Learning in TVET" and "Investing in TVET for Social Inclusion," with a specific emphasis on the National Technical Education and Skills Development Plan (NTESDP) 2023-2028.
We are honored to announce esteemed speakers from the International Labour Organization (ILO) who will be gracing us with their profound insights:
Forum 1: Mr. Johnny Sung, who will expound on the ILO Lifelong Learning Analytical Framework.
Forum 2: Dr. Robert Palmer, who will present on Financing Mechanisms for Promoting Social Inclusion in the TVET System.
Your presence at this momentous event is of paramount significance to us. We cordially extend this invitation to industry boards, academia, government agencies, labor representatives, and esteemed development partners - all vital stakeholders who share our vision for the advancement of the TVET sector.
We are pleased to inform you that participation in the eFora is free. However, pre-registration is essential to secure your virtual attendance. To register, please visit the following links:
Forum 1 Registration: http://bit.ly/eForaDay1
Forum 2 Registration: http://bit.ly/eForaDay2
We eagerly anticipate your esteemed presence and active participation during these engaging eFora sessions. Together, let us pave the way for a brighter and more inclusive future in the realm of TVET. You may access the program of activities via this link (https://bit.ly/TP2023_Program).
Thank you for your kind consideration, and we look forward to your participation.