July 9, 2019
TAGUIG CITY, Metro Manila, July 9 – The Technical Education and Skills Development Authority (TESDA) strengthens ties with the Department of Education (DepEd), through a Memorandum of Understanding (MOU) establishing a Joint Working Group to harmonize technical vocational education and skills training in the Philippine basic education system.
TESDA Secretary Isidro "Sid" Lapeña and DepEd Secretary Leonor M. Briones signed the MOU on behalf of their respective agencies.
"We look forward to working with the Department of Education in building up the TVL track in senior high school (SHS) from this year onward. We hope that this continuing partnership will result into positive outcomes and will benefit also the future generations of SHS students," Lapeña said.
TESDA and DepEd have assembled a Joint Working Group on Technical-Vocational Education and Training (TVET), comprising five (5) members each from both parties, who will be primarily in charge of the harmonization and complementarity of strategies, policies and programs, consistency and quality assurance of Training Regulations (TRs) and standards, and discussion and resolution of concerns as may be raised by either party concerning TVET.
The group is also expected to have an agreement on common researches and innovation programs, and a consolidation of trends and data pertinent to TVET.
TESDA, as part of the Curriculum Consultative Committee, as identified in Section 6 of Republic Act 10533 or the Enhanced Basic Education Act of 2013, contributes to the continuing implementation of the K-to-12 program through DepEd's Technical-Vocational-Livelihood (TVL) specialization track for the Senior High School level.
The Authority is also in partnership with DepEd in terms of curriculum development, providing teacher education and training programs, and competency standards development.
Pursuant to the R.A. 10533, basic education was extended to 12 years – implementing six years of elementary education, four years of junior high school, and two years of senior high school education (K-to-12).
The added years of schooling are expected to provide sufficient time for mastery of concepts and skills, to develop lifelong learners, and to prepare graduates for tertiary education, middle-level skills development, employment, and entrepreneurship.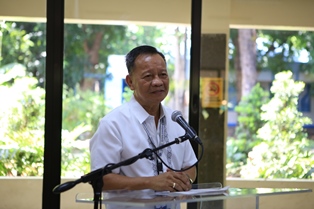 "The precise implementation of K-to-12 Technical-Vocational-Livelihood (TVL) programs that closely adhere to TESDA's quality assurance mechanisms can help bring more support for and trust in the educational reform. The creation of this joint working group on technical-vocational education and training composed of members from both our agencies is definitely a step in the right direction. This will ensure that we will always have a forum through which we can closely and quickly coordinate our actions and initiatives with regard to TVL programs." Secretary Lapeña said.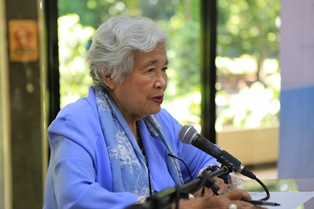 DepEd Secretary Leonor M. Briones emphasized on the importance of the DepEd-TESDA collaboration in formalizing a platform that would enrich the technical vocational education in the country.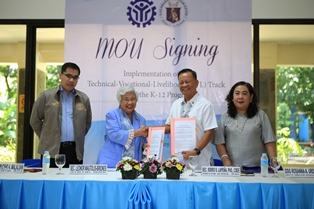 L-R: DepEd Undersecretary Nepomuceno A. Malaluan, DepEd Secretary Leonor M. Briones, TESDA Director General Secretary Isidro S. Lapeña and TESDA Deputy Director General Rosanna A. Urdaneta