13 August 2014
Enhancement of skills and access to resources can go a long way to help women sari-sari store owners make it big in the business.
With this goal in mind, the Technical Education and Skills Development Authority (TESDA) and Coca-Cola Philippines pursued their partnership, this time to also include women micro-entrepreneurs of Taguig City.
A Memorandum of Agreement (MOA) among TESDA, Coca Cola and the local government of Taguig City for the Sari-Sari Store Training and Access to Resources (STAR) Program was recently signed by TESDA Director General Joel Villanueva, Coca-Cola Public Affairs and Communications Director Atty. Adel Tamano and Taguig City Mayor Maria Laarni Cayetano.
The event was witnessed by Mr. Pablo Largacha, Head of Public Affairs and Communications of the Coca-Cola Pacific Group, who expressed the beverage firm's commitment and gratitude for their partnership with TESDA and the Local Government of Taguig City on this women economic empowerment program.
"Women entrepreneurs are the fastest growing segment in the community of small businesses. Because of this, wider and greater access to assistance should be made available to them," Villanueva said.
"Providing them with training and opening up avenues for resources to expand and sustain their business will help level the playing field so that they could succeed," he said.
For his part, Tamano said: "It is partnerships with equally passionate and committed organizations like TESDA that makes the STAR Program successful. We see them as a strong ally in helping women retailers become better entrepreneurs."
The STAR program is under the Coca-Cola Company's 5by20 Program, a global initiative to empower five million women worldwide by the year 2020.
According to the MOA, the program will consist of interventions for small sari-sari stores and food stalls or "karinderyas," focused on providing basic entrepreneurship training and facilitation of access to business resources, such as micro-loans and merchandising support.
Women micro-entrepreneurs in Taguig will be given scholarship for the 12-week training session that is going to be conducted at the STAR Program Center for Excellence located at the TESDA Women's Center.
After the completion of the training, qualified women will have the option to apply for additional business capital through micro loans from partner microfinance institutions or they can also organize a cooperative where they can build wealth through savings-first system.
They can also apply to become Coca-Cola serviced outlets, where they can be included in the Coca-Cola value chain as a partner sari-sari store or food outlet.
Launched and piloted in 2011, the Coca-Cola and TESDA STAR Program is now implemented in 25 cities and provinces, namely: Metro Manila, Benguet, Cagayan, Pangsinan, Tarlac, Pampanga, Bulacan, Nueva Ecija, Batangas, Albay, Camarines Sur, Mindoro Oriental, Mindoro Occidental, Palawan, Negros Occidental, Bohol, Aklan, Cebu, Ilo-Ilo, Misamis Oriental, Bukidnon, Lanao Del Norte, Davao City, Davao Del Sur and Davao Del Norte.
In a span of two years, the program has reached 20,000 women retailers. This year, it is aiming to reach 15,000 more through the various program components and implementing partner organizations.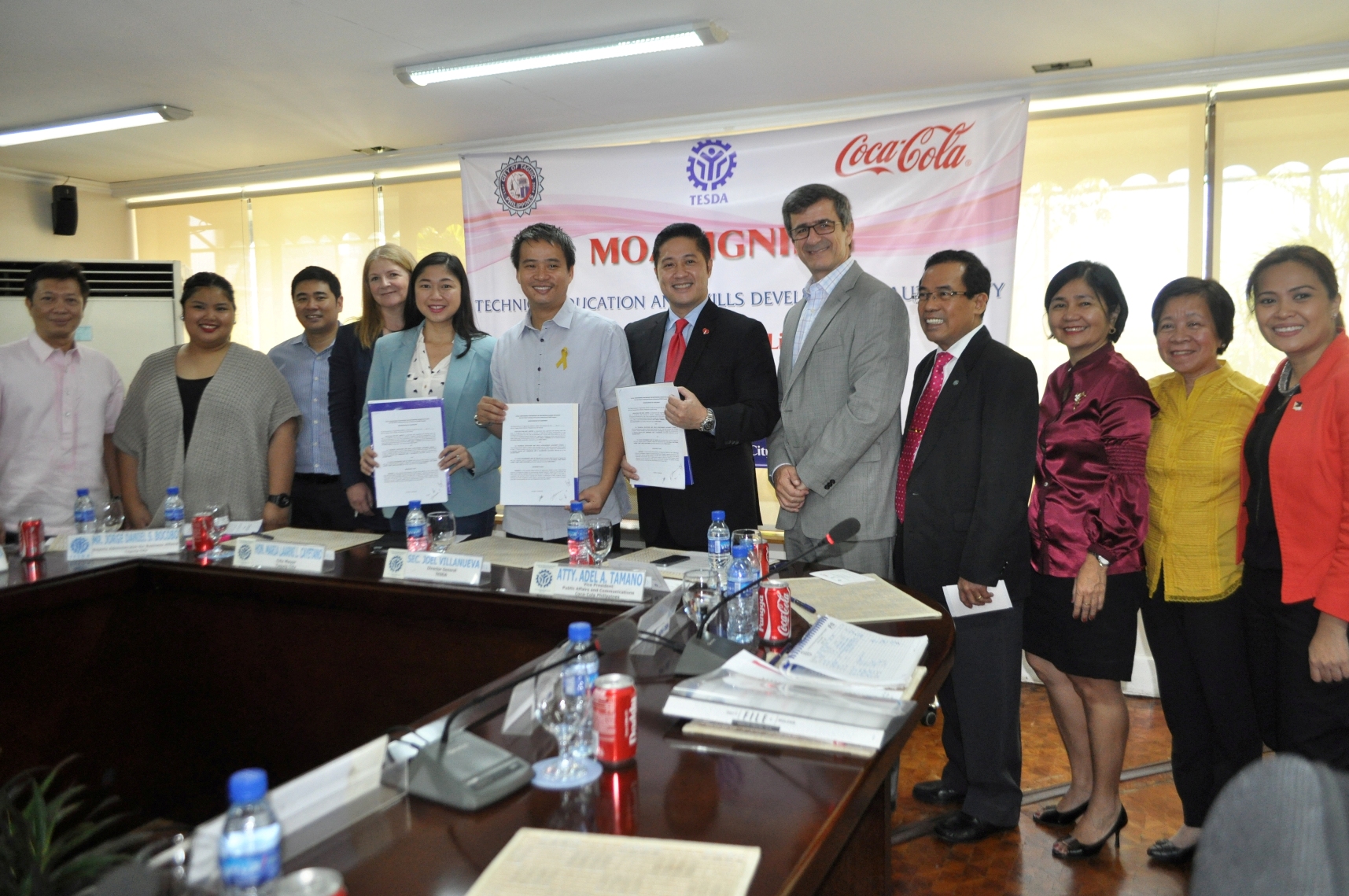 Assistance to owners of sari-sari stores and food stall or karinderyas through entrepreneurship training and facilitation of access to business resources are the focus of the Memorandum of Agreement among the Technical Education and Skills Development Authority (TESDA), Coca Cola Philippines and the local government of Taguig City.

TESDA Director General Joel Villanueva (6th from left), Taguig City ?Mayor Laarni Cayetano (5thfrom left), and Coca Cola Vice President for Public Affairs and Communications Adel Tamano (7th from left) signed the agreement.